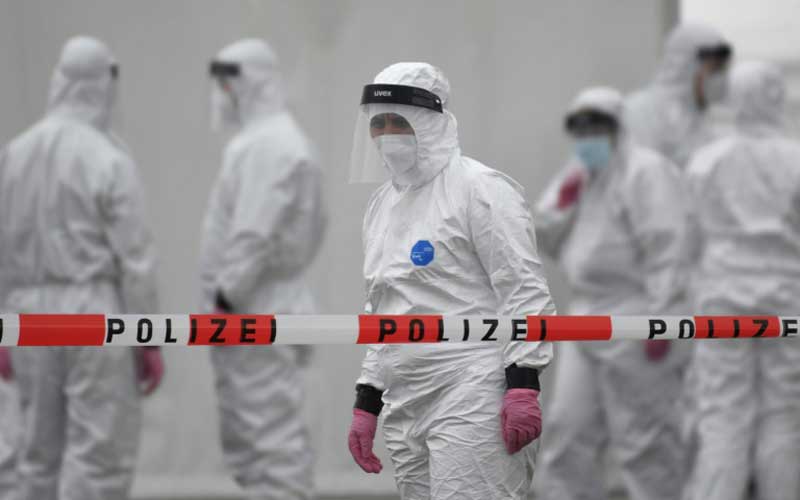 Germany's coronavirus spread appears to be picking up speed again, official data showed Sunday, just days after Chancellor Angela Merkel said the country could gradually return to normal. The Robert Koch Institute for public health said Germany's closely watched reproduction rate (R0) had climbed to 1.1, meaning 10 people with COVID-19 infect on average 11 others. The RKI has warned that for the infection rate to be deemed under control and slowing down, the R0 has to stay below one. As recently as Wednesday, Germany's number stood at 0.65.
Football, slaughterhouses
In Germany's most populous state of North Rhine-Westphalia, there has been a spike in cases at a slaughterhouse in the district of Coesfeld, where around 200 of the 1,200 employees have tested positive for the virus. Many of them are foreign workers from eastern Europe who lived in shared housing. The regional government has ordered workers at all of the state's slaughterhouses to undergo testing. It has also delayed the loosening of some confinement measures in the district.
Worst "not behind us"
As Merkel looks to steer the country cautiously into a new phase allowing more economic activity, some politicians have expressed fears that any precipitous action may spark a second wave of infections.
Protests
Despite such concerns, some Germans believe the country is not moving fast enough in easing the confinement measures. Thousands of people took to streets in cities nationwide at the weekend to protest against the remaining restrictions, such as wearing a mask on public transport and limiting social contacts.