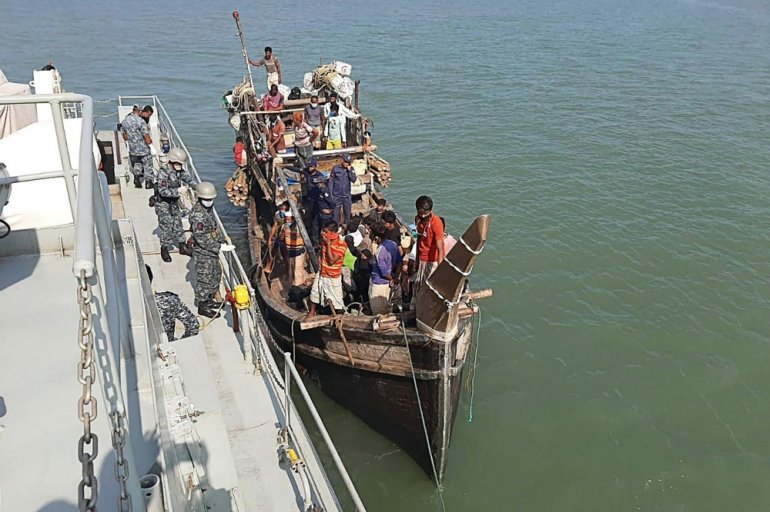 Rohingya refugee Shahab Uddin thought the wooden trawler he boarded in February would be his ticket out of a camp in Bangladesh to a better life in Malaysia. Instead, the voyage nearly killed him. The 20-year-old was among almost 400 survivors pulled from the water, starving, emaciated and traumatized after the boat failed to reach Malaysia and spent weeks adrift before returning to Bangladesh in mid-April. Hundreds more refugees are stranded on at least two other trawlers, rights groups say, as Southeast Asian governments tighten borders to keep out the new coronavirus, threatening a repeat of a 2015 boat crisis when hundreds of people died.
'BETTER OFF IN MALAYSIA'
Although the Rohingya people trace their ancestry in Rakhine back centuries, Myanmar says they are illegal immigrants from South Asia. For years, Rohingya from Myanmar and Bangladesh have fled by boat for Thailand and Malaysia when the seas are calm between October and April. Hundreds died in 2015 after a crackdown in Thailand led smugglers to abandon their human cargo at sea. In Bangladesh, Uddin made a little money driving motorized tuk-tuks but said refugees were becoming more confined.
WEEPING AND PRAYING
After a week the boat arrived off Malaysia, where it waited for several days before the crew said they could not disembark and would have to return to Bangladesh. They crossed back over the Bay of Bengal. "We faced storms three times," said Uddin. He said he was made to serve as an enforcer for the crew and beat anyone who stepped out of line. "If I didn't want to beat them, I myself would be beaten," he said. Meanwhile, some desperate passengers began to drink sea water. "By the wonderful grace of God, the water would seem sweet," said Hasan. "Many jumped into the water ... everyone was saying that it was much better to die in the water than dying in the ship." At night, the passengers held one another, weeping and praying. Eventually the boat stopped again, off Myanmar, survivors said, but again it could not dock. "People kept dying and would be thrown overboard," said Hasan. "I began to wonder when I would die." The refugees eventually forced the captain to take them back to Bangladesh where, one night, they made landfall. A coastguard official there at the time said they were a shocking sight: "Many of them were stick-thin, some unable to stand." Muriel Boursier, head of mission for Doctors Without Borders in Bangladesh, who met survivors later, said many could not walk. Some grieved for lost relatives, staring blankly. Some survivors were taken to hospital but most went to a quarantine camp, unaware of the coronavirus that had taken hold during their voyage. "It's difficult to understand that no state is able to open its doors," Boursier said. Uddin said his parents hardly recognised him but he was thankful to be back, though he had little hope for his future. "It's better to die here than to die at sea," he said.