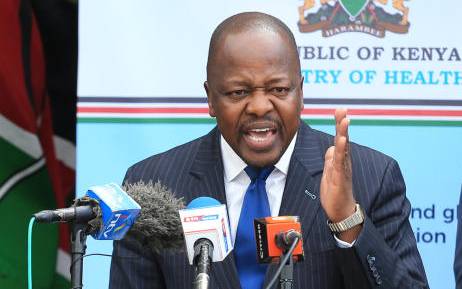 Bungoma Senator Moses Wetang'ula on Wednesday issued a statement on the government's handling of the coronavirus cases. Senator Wetang'ula in his statement persuaded the Ministry of Health headed by Cabinet Secretary Mutahi Kagwe
(above)
to make a bold step by naming the patients who tested positive for the virus. The legislator's demands landed him in hot soup as bashings and mockery flew his way.
Cases made public
On February 7, 2020, as China battled a virus that was climaxing and threatening to ground her healthcare system, one man stood out and was celebrated even posthumously. Li Wenliang, a 34-year-old Chinese doctor succumbed to the virus which he contracted in the line of duty at Wuhan central hospital. He was celebrated and is still being considered a hero after he blew the whistle on the virus just after it was detected in Wuhan. That Dr Li died of the disease, which later gave him fame is enough to reveal that people take positively anything crafted to fight the bug.
Doubts
On Thursday, Health Cabinet Secretary Mutahi Kagwe spent the better part of his press address condemning peddlers of fake news on the coronavirus. Mr Kagwe went and extra length when unleashed a warning to those he accused of misinforming Kenyans on social media that they would be arrested and taken to Mbagathi Hospital to confirm that indeed there are patients quarantined there, seven of whom are positive. That there is a brooding feeling of doubt is enough to reveal that Kenyans want to know the persons involved in the cases, right? When Tanzania confirmed her first case, a female patient was named and she came out to narrate her experiences and issued a public apology which I believe was well received. Why can't Kenyan government do the same? Having known that someone has tested positive for Covid-19, those who have been in contact with him or her will willingly take early cautionary steps to go for the test and self-isolate before it advances. And, when the country has the success stories of how patients have recovered, it will even give more confidence to the public not to be reckless to face the challenge just in case of an infection. The Health ACT 2017 section 11 (2) allows the government to disclose a person's identity if the disease in question is a threat to the nation. It states: "Subject to the Constitution and this Act, no person may disclose any information contemplated in subsection (1) unless (c) non-disclosure of the information represents a serious threat to public health." Why not Kenyan government?
Japheth Ogila is a sub-editor and reporter for the Standard Digital