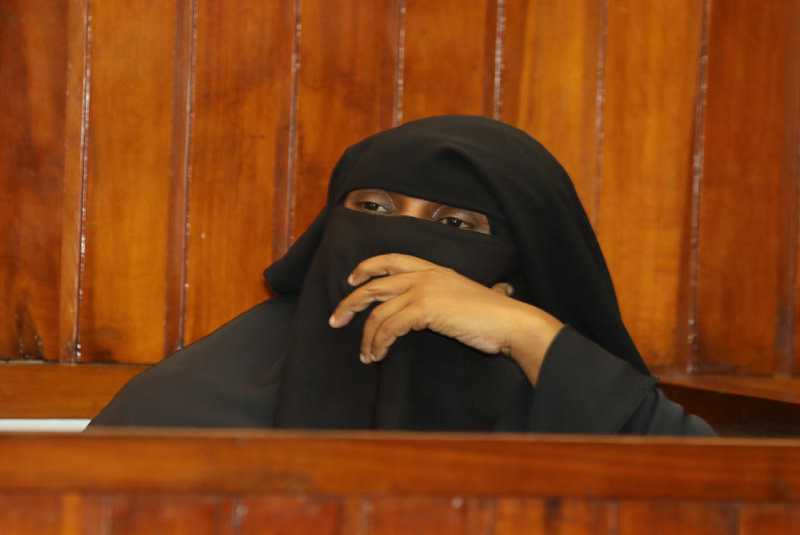 The widow of slain radical cleric Aboud Rogo, Haniya Sagar, was freed after the High Court overturned her 10-year conviction over a botched terror attack on a police station in Mombasa.
On September 11, 2016, Tasnim Yakub, Ramla Abdirahman Hussein and Maimuna Abdirahman were gunned down after they hurled a petrol bomb at Central Police Station reception in an attempt to set free a suspect in custody.
Ms Sagar was arrested after the anti-terror police linked her to one of the attackers, Yakub, over claims that she was in constant communication with him prior to the attack. In February 2018, Senior Principal Magistrate Diana Mochache sentenced Sagar to 10 years in prison after she found her guilty of failing to report the terror plot.
Mochache ruled that the slain cleric's widow communicated with the women in a criminal manner prior to the attack, hid information about an impending attack and aided its commission.
High Court Judge Lady Justice Dorah Chepkwony overturned the sentence and declared that the lower court erred by convicting Sagar on a defective charge sheet as there was no sufficient evidence to link the appellant to the attack.
"Having subjected her to a full trial, the magistrate ought to have acquitted her. The conviction is hereby quashed and the sentence set aside," ruled Lady Justice Chepkwony.
Sagar was charged alongside Luul Ali Tahli, Nasteho Ali Tahli and Zamzam Abdullahi who were later freed for lack of evidence. The mother of five was accused of conspiring with the three slain women who also stabbed two police officers before they were killed.
Sagar had denied committing the offence of planning the attack with Tasnim on September 5, 2016 in Kanamai, Kilifi County, as claimed by police.
Justice Chepkwony said the link between Sagar and Tasmin was "far-fetched by the magistrate."
"The appellant (Sagar) was wrongfully convicted since the co-accused had been acquitted. A charge of conspiracy is a faulty charge because one person cannot conspire alone," said Justice Chepkwony.
She said that by acquitting Sagar's three co-accused on conspiracy charges, she ought to have released her too because Sagar could not have conspired by herself.
Sagar had been detained at Shimo la Tewa Maximum Prison after the High Court declined to grant her bail.