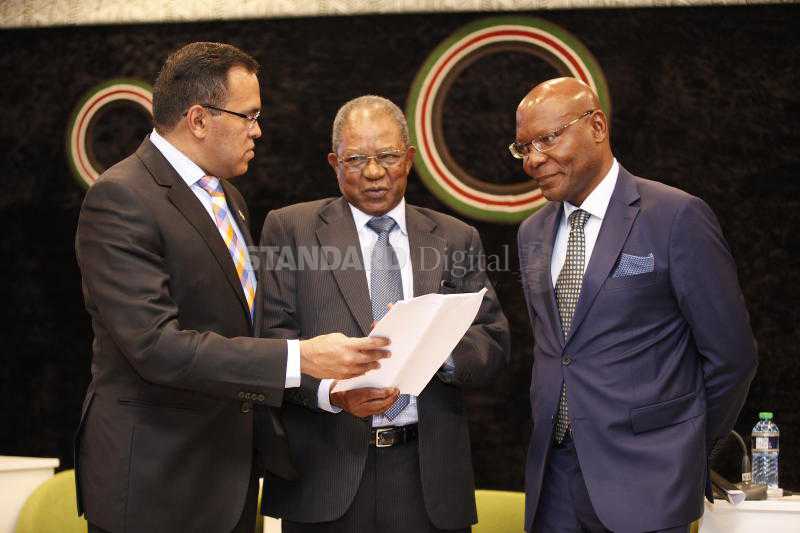 Safaricom continues its charge as the preferred mobile phone services provider and market leader, with each of its subscribers contributing on average Sh8,000 to the firm's income last year.
The high customers' spendings, however, includes sales of handsets and accessories which accounted for Sh8.9 billion, up from Sh8.7 billion.
The telco recorded total revenue of Sh233.7 billion in the financial year ended March 2018, up 9.8 per cent compared to the previous year, from various products and services to its 29.57 million subscribers.
Net profit rose 14 per cent growth to Sh55.1 billion in the financial results announced Wednesday by Chief Executive Bob Collymore through a recorded video from London, where he is recuperating from illness.
The growth was boosted by increase in revenue across all the company's business segments, achieved in a period described by Strategy and Innovation Director Joseph Ogutu as "extremely difficult."
It also marked the sixth straight year that Safaricom has registered growth in profits.
Combined profits
The telco's after-tax earnings are more than the combined profits of Kenya's top three banks - Kenya Commercial Bank, Equity Group and Cooperative Bank.
If the company decided to be philanthropic and give all the profit to its 29.5 million subscribers, each would receive at least Sh1,800. The number of customers increased by 5.1 per cent during the year.
However, shareholders will receive a total payout of Sh44.07 billion, an increase of 13.4 per cent from Sh38.86 billion paid last year. This is after the board recommended a dividend of Sh1.10 per share.
The Government will receive Sh15.42 billion as dividends since it has a 35 per cent stake. Vodafone, the main shareholder with a 40 per cent stake, will get Sh17.6 billion.
The payout will come in the wake of all business segments having registered growth. Revenue from fixed service, mobile data and M-Pesa grew the fastest year-on-year to increase service income by 10 per cent to Sh224.5 billion from Sh204.1 billion in 2017.
Mr Collymore said the solid performance was proof that the business has diversified its revenue streams and that investments and strategies put in place are yielding results.
"We remained resilient despite the macroeconomic headwinds of a prolonged election period, drought, low credit growth, uncertain regulatory environment and enhanced competitor activity," he said.
During the year, M-Pesa revenue grew by 14.2 per cent from Sh55.08 billion to Sh62.91 billion, to account for 28 per cent of the company's total revenues, from 20.9 per cent in 2017. It also added 2.1 million new customers.
Chief Finance Officer Sateesh Kamath said the company is in talks with various partners on the possibility of exporting M-Pesa to other countries.
Mobile data revenue grew by 24 per cent to Sh36.36 billion from Sh29.3 billion - to account for 16.2 per cent of total revenue. In the previous financial year, its share of total revenue was 9.2 per cent.
Breakdown of numbers by Mr Kamath showed that about 92 per cent of subscribers consumed data in bundles, with more than 87.7 billion bundles being used, up by 72 per cent from 51.1 billion in 2017.
Voice service revenue, which accounts for the giant share of revenue recorded the slowest growth (2.3 per cent), from Sh93.46 billion to Sh95.64 billion even as Collymore linked this to politics that called for boycott of the service.
"Negative post-election sentiments made voice market share retention a challenge during the September to December 2017 quarter, as indicated in the report published by the Communications Authority (of Kenya)," he said.
Mr Ogutu said the politics affected the business since "when you have people making it difficult for dealers and agents to work," growth becomes hard.
In the period under review, fixed service revenue increased by 27.3 per cent to Sh6.67 billion while messaging (SMS) revenue increased by 6.2 per cent from Sh16.68 billion to Sh17.72 billion.
Safaricom remitted Sh87.64 billion in duties, taxes and licence fees to the Kenya Revenue Authority, from Sh84.3 billion in the past financial year, making it a major contributor to the Government's revenue basket.
This amount increased the total duties, taxes and fees paid since inception to Sh580.38 billion, according to the company's commentary accompanying the results.
Going forward, Kamath said, the firm wants to invest between Sh35 billion and Sh38 billion in the business and has set its eyes on getting profit before tax of between Sh85 billion and Sh89 billion.
palushula@standardmedia.co.ke