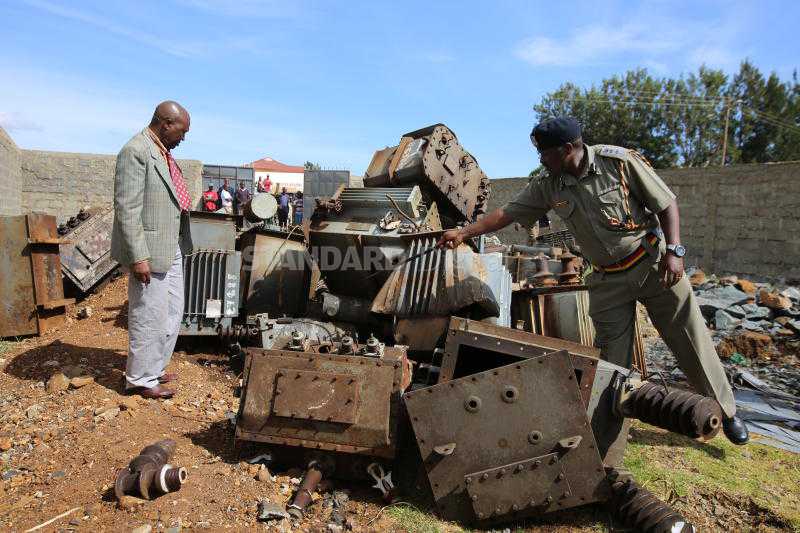 Police in Eldoret Wednesday recovered 43 transformers belonging to Kenya Power in what could be a pointer to a well organised syndicate involved in theft of electricity equipment in the region and beyond.
Police stormed a yard in Maili Nne area and arrested two suspects for being in possession of the equipment worth Sh50 million.
One of those arrested was the owner of the yard where the transformers were recovered. He was held alongside another suspect said to be a worker at the site.
Speaking at the site, Eldoret West OCPD Samuel Mutunga said police were tipped by locals in the area, leading to the arrests.
He said the suspects were involved in the dismantling and removal of copper from the transformers for sale to various clients locally and abroad.
"Of the recovered transformers, seven did not have complete parts while the rest were intact puzzling the electricity company on how their equipment found its way to individuals who are not contracted," said Mutunga.
He observed that a transformer sold as scrap costs between Sh300, 000 and Sh400, 000 and often attracts a huge market abroad.
Locals also confirmed that the business begun a month ago after the owners informed them that the yard belonged to Kenya Power.
According to security officials, most of the transformers were believed to have been removed from the poles as their state showed that they were damaged.
"The company is known to remove the transformers in a flawless manner but the status of this equipment shows that there is a possibility that they may have been removed from certain places before being transported to the area," added OCPD.
Mutunga observed that it is difficult for locals to ascertain a worn transformer and one which is still intact.
Kenya Power North Rift head of security Paul Nyaga observed that there are set procedures on how they dispose worn out transformers arguing that it is impossible for them to be sold to individuals without their being yard monitored by authorities as a measure to prevent copper from being sold in the market.
"Those sold as scrap are specific dealers and have special markings. They are not sold without accompanying documents and disposal certificates and that is why our team is currently verifying each transformer," he explained.
He observed that the last time the transformers were sold to dealers is four years ago and another tendering process is on course.
"Most of our equipment has continued to be vandalized but the big let-down has been failure by locals to provide more information on people behind it," said Nyaga.