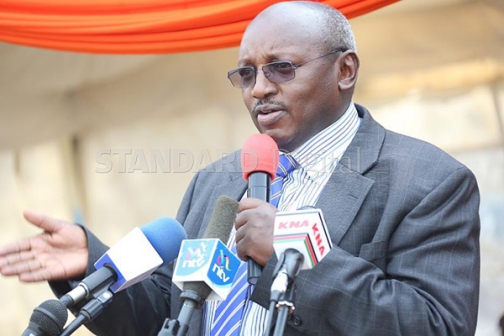 NAKURU: The political rebellion against the Jubilee government is not over yet, Kuresoi South MP Zakayo Cheruiyot has warned.
Cheruiyot who is among a few Rift Valley politicians to rebel against Deputy President William Ruto sounded the warning saying the political situation in the region was still delicate.
"The people in Rift Valley do not want to fall victims of a political dictator. The DP should let voters decide on their political destiny. We do not want to be herded like cows," he told the Standard on Sunday in a telephone interview.
Cheruiyot who has since severed political links with Mr Ruto revealed that a number of politicians from the region were consulting about their political future and would make a major announcement soon.
Asked who he was speaking for, Cheruiyot declined to divulge much information saying "a lot of us are still disgruntled because the government we voted for us let us down."
He claimed the Jubilee government has failed to implement some key projects it promised the people of Rift Valley, adding that they would not be hoodwinked with the launch of projects in January 2017.
"All we hear is empty talk from a leader (the DP) who is not keen to listen to the people who elected him. He should understand that the time for public relation is over. That is not the way to show us the way forward," he said.
He challenged the deputy president that; "for once Mr Ruto should listen to the voice of the people," and warned him that the region is unhappy with the Jubilee government.
His utterances comes only a day after Bomet Governor Isaac Ruto and Emurua Dikirr MP Johana Ngeno warned the deputy president that he might not ascend to the presidency if he continued to antagonize local leaders.
The two were speaking at Silibwet ground in Soin/Sigowet constituency last week.
The governor has formed Chama Cha Mashinani (CCM) that he intends to defend his gubernatorial seat following the dissolution of the United Republican Party (URP) - one of the 12 political parties that formed Jubilee Party.
There has been fear that a number of politicians in the South Rift region were gearing up to join Ruto's CCM and the independence party Kanu who were keenly following the unfolding political scenario in the region.
The South Rift region is a key constituency of the Uhuruto team that is key to maintain its hold on the populous Kipsigis vote, as the country heads towards the next general election.
The Deputy President has also been keen to maintain his political grip on the region that voted almost to a man for President Uhuru in the last General Election.