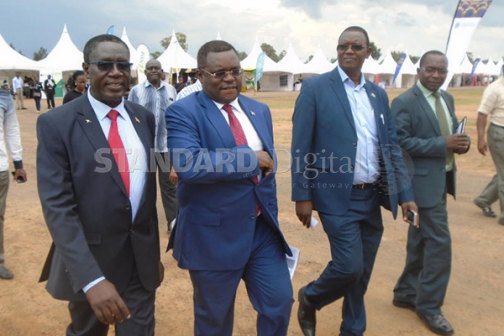 BUNGOMA: The Communications Authority of Kenya (CA) has kicked off an ambitious Sh800 million project to connect all public secondary schools in the country to high speed internet.
The authority's Director General Francis Wangusi said they will connect 54 public secondary schools in Bungoma County to high speed internet.
Dr Wangusi was addressing participants during the 12th edition of the Communications Authority of Kenya's County ICT Consumer Forum, dubbed Kikao Kikuu, held at the Bungoma Airstrip.
He said that is part of project that will see CA link all public secondary schools in the country to broadband internet through the Universal Service Fund (USF).
Targeted schools
"Already the authority, through the Ministry of Education, has identified 896 schools that will be connected to the high speed internet during the current financial year and we striving to ensure that all students are digital savvies," he said.
Wangusi said the authority will support the project for four years, with 100 per cent funding in the first year, and 75 per cent in the second year with the Ministry of Education financing 25 per cent.
"In the third year, the authority and the Education ministry will split the costs equally at 50 per cent, while CA will meet a quarter of the costs in the fourth year, with the Ministry of Education shouldering 75 per cent of the total costs," explained Wangusi.
He said the schools were selected based on their ICT readiness, with preference given to institutions that have computer labs and offer computer studies as an examinable subject in the Kenya Certificate of Secondary Examination (KCSE).
"We have entered a Memorandum of Understanding (MoU) with the Ministry of Education to identify the schools. So far we have identified 896 secondary schools," said Wangusi.
"We believe this is going to be a foundation through which we will grow our capacity and also enable our young children to start developing their critical skills in ICTs," Wangusi added.
Funding
The Universal Service Fund has so far collected Sh4.7 billion. The Fund was established in 2009 to subsidize the cost of ICT infrastructure roll out and expansion in unserved and underserved areas.
The Fund is primarily financed through mandatory contributions by licensed operators who contribute 0.5 per cent of their gross revenue. Bungoma Governor Kenneth Lusaka said his county is very keen to work closely with the national government and its agencies such as Communications Authority of Kenya to ensure they take full advantage of ICTs and the potential it has to spur innovation.
"The possibility of Bungoma County and by extension Kenya becoming a knowledge-based society hinges on the harnessing of ICT capabilities," noted Lusaka.
Kikao Kikuu is a County ICT Consumer forum hosted by the authority to sensitize users of ICT services on their rights and obligations within the ICT environment.