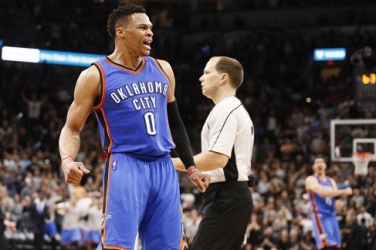 Oklahoma City's Russell Westbrook finished just one assist short of a triple double as he led the Thunder to a come-from-behind 95-91 win at San Antonio.
The win enabled them take a 3-2 lead in their NBA Western Conference semifinal series.
Westbrook had 35 points, 11 rebounds and nine assists to steer the team to an impressive road victory that meant they can now close out the series with a win at home tonight.
"Russ was a maniac tonight, keeping us in it," Oklahoma City forward Kevin Durant said.
Durant added 23 points as the Thunder won for the second time in San Antonio in the series, and the Spurs had lost only once at home throughout the regular season.
The Spurs have rallied from a 3-2 deficit only once in their prolific playoff history, winning the final two games in 2008 to defeat the then New Orleans Hornets.
"I hope we respond a little angry with a chip on our shoulder," Spurs guard Danny Green said. "If you want to be a championship team, you have to win on the road. Simple as that."
There were a couple of referee calls the Spurs felt did not go their way in the final minutes, but it was Westbrook, who left no question of the outcome.
He sealed the victory with a three-point play with 6.3 seconds remaining, scoring after Kawhi Leonard was not able to foul him intentionally. This enabled him to drive for a layup while being fouled by LaMarcus Aldridge.
Leonard said he "definitely fouled him" on the initial attempt, but Westbrook continued turning the corner and attacking the rim.
"He got away, attacked the rim and got an and-one," Spurs guard Manu Ginobili said. "Very tough outcome. I didn't watch the replay. I don't know how emphatic the foul was, but it's not the point.
"We should have arrived to that point in a better situation. —AP