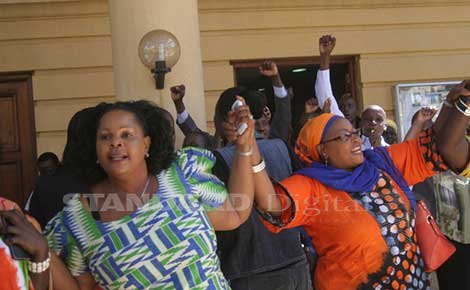 CORD supporters celebrate Friday after the High Court suspended implementation of some of the security laws enacted recently
NAIROBI, KENYA:
Court of Appeal has declined to grant Attorney General Githu Muigai prayer that it lifts orders suspending eight clauses in the security act.
Among the suspended clauses is one that amended the Public Order Act
and made it mandatory for people to seek permission of the police before publishing images of terrorism victims. Also suspended is a clause that gave the National Intelligence Service powers to monitor private communication and "authorise any member of the Service to obtain any information, material, record, document or thing" considered a threat to national security. A law restricting the number of refuges entering the country and making it more difficult for them to be granted asylum was also suspended pending hearing and determination of the main petition. "The effect of the implementation of this amendment would be the immediate reduction of the number of refugees which may lead to evacuation of some of them from the refugee camps and deportation of not a small number of refugees from the country. If this was to happen before the petitions are heard, nobody including the learned Solicitor-General would be able to enlighten the Court how the situation would be restored," said Justice George Odunga.