By WAHOME THUKU
The Judicial Service Commission has interviewed 15 people over the altercation between Deputy Chief Justice Nancy Baraza and security guard Rebecca Kerubo.
Four of them, including Baraza and Kerubo, were interrogated on Tuesday by the JSC committee set up on Monday and 11 others were interviewed Wednesday.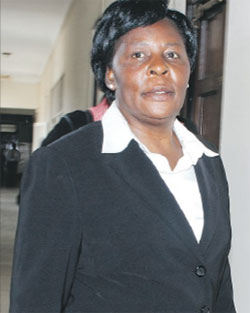 Deputy Chief Justice Nancy Baraza. Photo: File/Standard
The committee headed by the Reverend Samuel Kobia, a JSC commissioner, concluded hearing oral evidence from witnesses and hopes to compile its report this afternoon and hand it over to the JSC by 2.30pm Friday.
Ms Kerubo has accused Justice Baraza of assaulting her and threatening to kill her on New Year's Eve. The DCJ had gone to buy drugs at Belladonna Pharmacy at the Village Market shopping mall in Nairobi.
Kerubo, who was manning a security desk, alleges Baraza declined to be cleared at the desk. She followed her into the pharmacy, demanding that she opens her handbag for the check.
The guard claims Baraza then instructed her bodyguard to shoot her, but when he declined the DCJ went to her car and returned with a gun, threatening to kill her.
Security officers
Some of the witnesses interviewed yesterday were top security officers at the Village Market shopping mall, Nairobi Provincial Police boss Peter Mwende, senior CID officer Mohamed Amin, and Peter Mungai the Gigiri Criminal Investigations Department boss where the incidence was first reported.
Others were Dr Gerald Wathigo of the pharmacy, Mr John Nyongesa, a private citizen who volunteered information upon appeal made by the committee on Monday, and Baraza's driver Erick Omondi.
Though the witnesses never disclosed what they told the committee or what they were asked, the main evidence being sought is whether the DCJ assaulted Kerubo and whether she brandished a gun. Key information also is whether Justice Baraza is licenced to carry a firearm and whether she indeed carries one.
Baraza has denied having threatened the security guard with a gun saying she does not carry any.