Burial for popular Nigerian televangelist TB Joshua underway in Lagos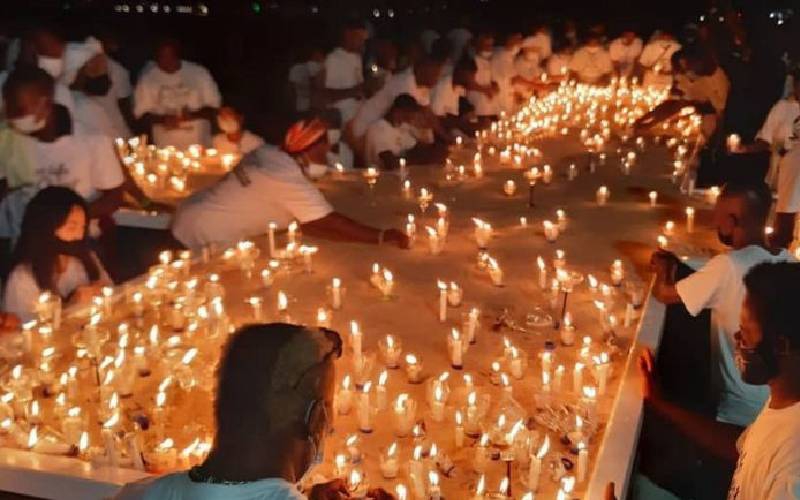 TB Joshua, a popular Nigerian televangelist is set to be buried today.
The 57-year-old died on June 5, 2021 after a brief illness just few days to his 58th birthday.
On Thursday morning, thousands of mourners gathered at his church the Synagogue, Church of All Nations (SCOAN) in the Ikotun area of Lagos for final funeral rites.
The late televangelist was revered by people from around the world and tens of thousands of people attended his weekly services.
The remains of his body dressed in white arrived at the church in the Ikotun area of Lagos State at around 11am.
The church, family members and well-wishers of the late SCOAN founder held an all-night candlelight procession on Monday night into Tuesday morning.
On Thursday, the hearse carrying his body made a stop at his favourite "prayer mountain", a small hill in the Agodo area of Lagos where he spent days isolated in prayer.
Thousands of mourners then received the corpse at his church where he lay in state.
His rise to prominence in the late 1990s coincided with the explosion of "miracle" programmes performed on Nigerian TV by various pastors.
His ministry professed to heal all manner of illnesses, including HIV/Aids and attracted people from all over the world.
Known as the "Prophet" by his followers, he ran the Christian television station Emmanuel TV and often toured Africa, the US, the UK and South America.
Mr Joshua came from a poor background and was brought up by his Muslim uncle following the death of his Christian father.
His burial brings to an end a one-month series of activities after his death.
The preacher's wife of 25 years, Evelyn Joshua, is reportedly expected to take over as SCOAN leader.
Mourning her husband, Evelyn - a senior pastor at the church - stated that she takes refuge in her faith following the father of three's death.
"Losing a loved one is never easy; whether sudden or foreseen it's always heartbreaking. Grief can wreak havoc on our overall well-being. That's why it's important to stay rooted in the Almighty. Only He can lessen our heartache and comfort us in these times. Seek refuge in Him," she tweeted.