Magufuli, Uhuru phone call eases border tension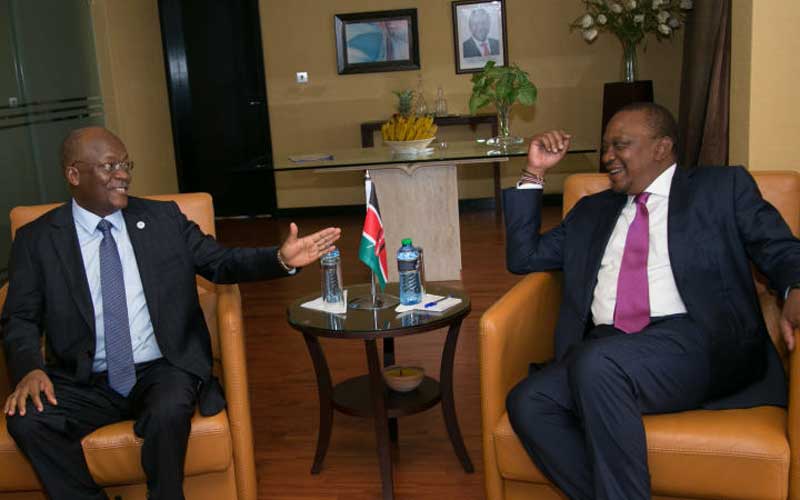 President Uhuru Kenyatta and his Tanzanian counterpart John Magufuli have resolved to work together "as brothers", effectively ending a brewing diplomatic row between the East African neighbours.
Nairobi and Dar-es-Salaam have traded retaliatory border closures to tame the growing cross-border coronavirus cases.
The two presidents had a phone conversation, which according to Magufuli, eased the tension over border control in the wake of the pandemic.
Transport ministers and regional commissioners from the two countries have been directed to meet and resolve the problems at the border points.
"Kenyans are our friends, there are Maasai people in Kenya and Tanzania. We share many things in common," Magufuli told residents of Singida, Tanzania. "Both nations share Kuria speaking people, among other tribes."
He added that Covid-19, the disease caused by the Coronavirus, should not bring a rift between Kenya and Tanzania. The two countries have operated an open border policy in the wings of the East African Community.
The Wednesday truce comes hours after the Tanzanian government rejected the results of 19 truck drivers from the country who tested positive at the Namanga border earlier in the week.
Arusha Regional Commissioner Mrisho Gambo sensationally claimed the results were a ploy by Kenya to deliberately sabotage their tourism industry.
Gambo's statement followed that of Tanga, Kilimanjaro and Mara regional commissioners who had put curbs on Kenya truckers and brought trade between the nations to near standstill.
"Tanzanians need to do business with Kenya, they also need to trade with us," Magufuli said.
According to Kenya Bureau of Statistics, Kenyan exports to Tanzania grew by 13 per cent to 33.9 billion in 2019.
Exports included steel, iron, plastics, vehicles and electrical equipment among others while Kenya imported cereals, beverages, spirits and vinegar from Tanzania.
Magufuli urged drivers to remain calm as the two governments work on a long-lasting solution.
"Kenyans should come buy onions from Singida, Tanzanians want Kenyans to sell their soap to them," he said.